Mexican Grilled Corn on the Cob
WiGal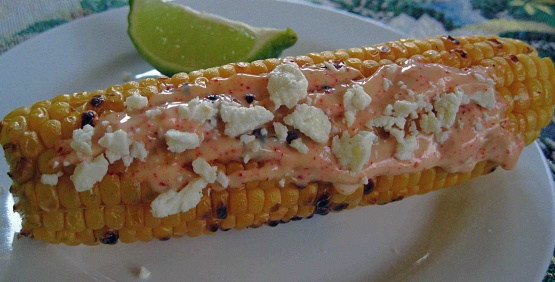 Street vendors across Mexico sell this style of roasted or grilled corn topped with mayonnaise, chili powder and Cotija cheese. You can serve the unadorned corn on a platter with small bowls of the sauce, cheese and lime on the side so everyone can make their own. Found online on Eating Well.

Delicious! Couldn't find cojito, so I went to a local Mexican restaurant and begged. Not sure if they gave me cojito or feta....but it seemed a bit creamier than feta. Loved the mayo/sour cream mix on the corn! Definitely a recipe I'll make again. Thanks for sharing!
1. Preheat grill to medium-high.
2. Combine mayonnaise, yogurt or sour cream and chili powder in a small bowl.
3. Grill corn, turning occasionally, until marked and tender, 8 to 12 minutes total. Spread each ear with 1 tablespoon of the sauce and sprinkle with 1 tablespoon Cotija (or Parmesan). Serve with lime wedges.
NOTE: Cotija cheese, also called queso Anejo or queso Anejado, is an aged Mexican cheese similar in texture and flavor to Parmesan. Find it near other specialty cheeses or in Mexican grocery stores.