Linorama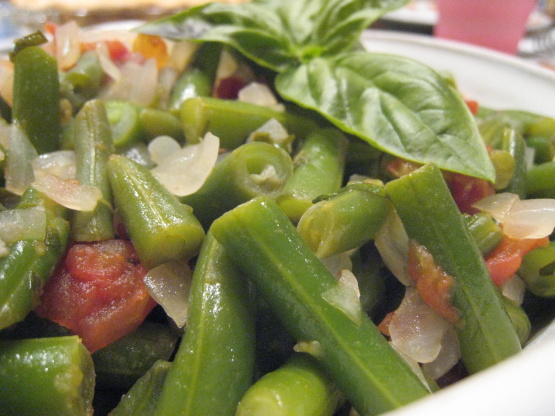 I love the combination of green beans and tomatoes. This is a Rotel recipe I found on-line. Until recently we were unable to find Rotel in NYC. If you can't find Rotel in your area, any can of diced tomatoes & green chilies will do. This is a very quick and light side dish.

This was super simple and tasted very good. I used fresh basil and guessed the tsp measurement to be for dried - so used 2 tbs of fresh. Also used olive oil in place of the vegetable oil. This is close to the green beans I often make, but mine uses bacon and tomato. I guess that wouldn't be very vegetarian though eh? Made and Reviewed for Veg*N Swap 7 - Thanks! :)
Trim green beans if using fresh.
In a large skillet, saute beans, onion and garlic in hot oil until beans are tender-crisp, about 5 minutes.
Stir in Rotel and basil.
Simmer uncovered for 10 minutes, stirring occasionally.
Sprinkle with lemon juice and serve.