Mexican Frozen Hot Chocolate Pie
gailanng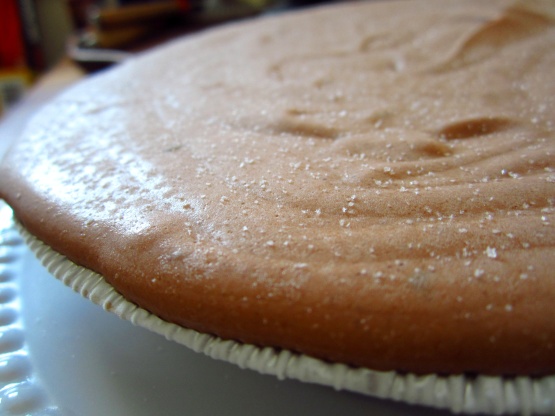 Found this recipe in a recent issue of my Mom's Woman's World magazine. Served it at a BBQ I hosted and it was a smash hit. Don't let the cayenne scare you off. The heat is very subtle. That's how you make frozen chocolate "hot"! You can still make the recipe without it, but it just won't be the same.

This pie knocked my socks off! So rich and decadent, a small piece is sufficient, to satisfy your sweet tooth. I'm not sure if I got the right size crust, as I only found chocolate, not Oreo. I figured it didn't make much difference, but if there is a size difference, that does matter. The filling was piled SO high in the crust, that the lid wouldn't fit! I could not tell the difference between the '2' layers; not quite sure of the reasoning, unless it is to make sure it freezes without overflowing the crust. I couldn't stop licking the bowl, beaters, etc. It really does taste like a Mexican hot chocolate! I can not wait to share with friends and family! Thanks for sharing this fab recipe, ThePartyGuy! Made for Fall PAC 2011.
Place beaters and mixing bowl in freezer. (This is for the heavy cream.).
Melt chocolate chips in double boiler or microwave. (Two minutes at 50% power usually works.) Cool.
In separate bowl, whisk together sweetened condensed milk and milk.
Whisk in melted chocolate.
Stir in vanilla, cinnamon and cayenne pepper.
Take bowl and beaters from freezer. Beat heavy cream until stiff peaks form.
Fold in chocolate mixture.
Transfer 3 cups mixture to freezer-proof bowl. Cover.
Pour remaining mixture into crust.
Freeze bowl and pie 2 hours.
Top pie with mixture in bowl.
Freeze overnight.
Top with whipped cream and chocolate shavings, if desired.
The preparation time does not include the first 2 hours in the freezer.