Mercy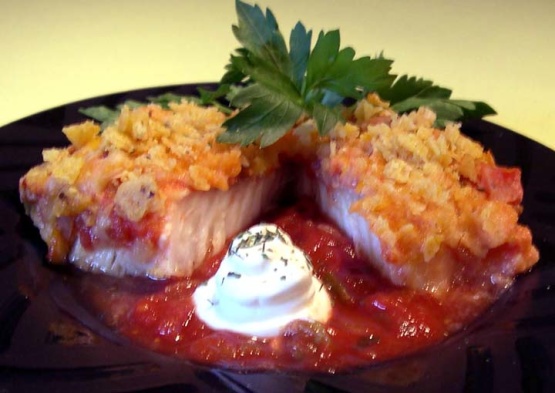 Dinner on the table, quickly, with a minimal effort! I found this recipe on a another website. It is so easy and delicious!

My only complaint with this is that it could have used some seasoning. I think next time I'll put a little fajita seasoning or some garlic salt on the fish before adding everything else. Other than that, it was yummy and quick. The chips also stayed crispy on the top. We served it with Spanish rice and black beans and it was pretty yummy! I'll be making it again.
Lay the fish fillets in a single layer in a greased 8"x12" baking dish.
Pour the salsa over the top, and then sprinkle evenly with the shredded cheese.
Top everything with the crushed corn chips.
Bake, uncovered, at 400°F for 15 minutes, or until fish is opaque and flakes with a fork.
Serve with choice of garnish: sliced avocado, green chiles, olives and sour cream.