teresas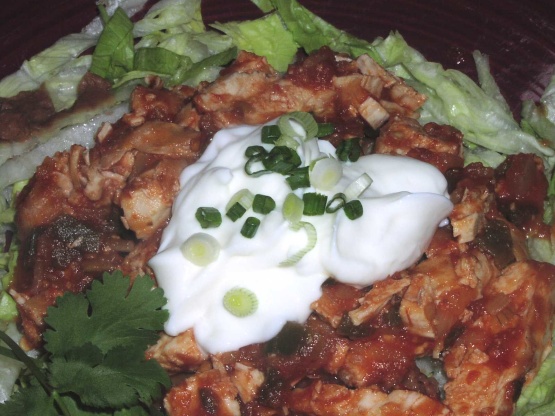 This is a pumped up version of a traditional taco salad. If you love Mexican food, then you'll love this. Very simple!

Excellent flavor! I really enjoyed this. I could tell by the list of ingredients, that it would make quick a bit. So I cut it in half. I would say the servings as listed would feed 2-3 people. I grilled the chicken on my George Foreman and used some leftover refried beans. I also chopped up cilantro and sprinkled on top. Of course after the photo was taken. (I used the garnish). Made for PAC spring 08.
Grill chicken breast all the way until cooked.
While chicken is cooking, heat up salsa on stove.
Place refried beans in a microwave safe bowl and heat about 1 minute or until hot.
Once chicken is no longer pink, slice into strips and mix into the salsa.
Place the lettuce shreds on plate, and layer the hot beans on top.
Top the beans with the chicken salsa mixture and spoon on the sour cream on to.
Serve with a side of your favorite rice and garnish with sliced green onion.