MsBindy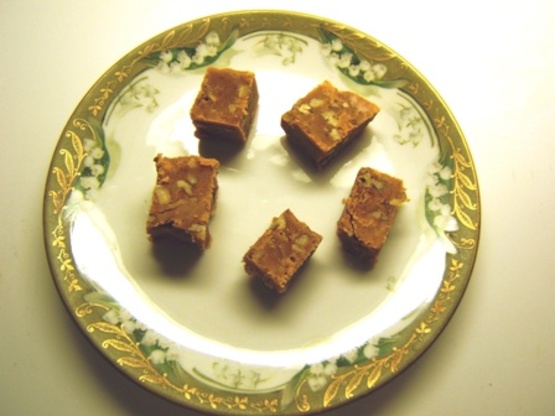 Delicious fudge that is not chocolate. A local award winner and very sinful! Holiday favorite with us for years, I remember as a grade schooler I always got the job of stirring this til i thought my arms would fall off! Now I see how well worth it it was.

Very sinful is pretty accurate, Laurie! After I'd made these and they'd cooled just a bit and I tried one, I looked back at the recipe and thought OMG what have I done! 416.9g fat! Okay that is for the whole batch, but since most of us are so easily hoodwinked with statistics it just might be a good idea to specify the number made so that the fat content looks less daunting! Of course the number made will vary, depending on how people cut the fudge in their pan. I cut mine into 30 individual pieces of fudge, sorry Mexican Cream (Fudge). Needless to say they were delicious, TOO delicious to make often, but I'll keep this recipe in mind – along with another Zaar fudge recipe I made and reviewed some months back – when it's time to make such things for Christmas gifts. Needless to say, they were scrumptious: they'd have to be when the fat content is so high! If you're disciplined, a great recipe to make – for others!
In large suacepan mix all ingredients except vanilla and nuts.
Boil until it forms a soft ball, STIRRING CONSTANTLY.
Set pan in cold water and beat in vanilla and nuts.
Stir until gloss leaves and is hard enough to spread in pan.
(Don't stir too long) Spread in pan and cool.