Mexican Cornbread Casserole
vrvrvr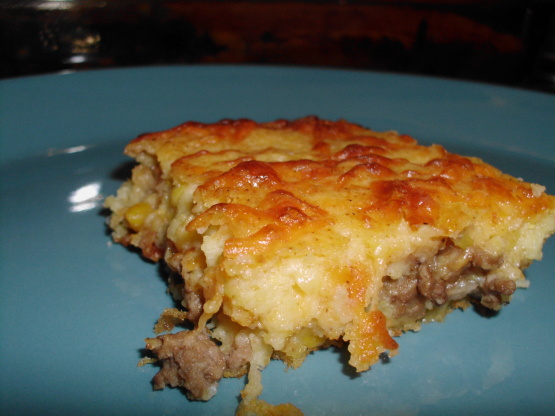 I can't remember where I got this recipe but have had it for years. I always make this when I have cooked a big pot of pinto beans and ham. It's a nice change from your standard cornbread. My husband does not like cornbread or anything with cornmeal but always looks forward to me making this when we have beans. I have made it often and always get lots of compliments.

I chop at least a 1/2 LB of bacon and brown it, when making this cornbread, I use a 1/2 cup of bacon dripping instead of the oil, and sprinkle the bacon into the pan, yeah more calories but so good. I've never browned the onions with the ground beef, they just goes into the baking pan, I got this recipe from Ida Carter a hundred years ago, LOL, she was from Quanah , Texas, she was the best cook ever,
Brown together the ground beef, onion and jalapeno pepper; drain well.
In a bowl mix together the cornbread ingredients.
Lightly spray a 13 x9 in baking dish with Pam.
Pour 1/2 of the cornbread mixture into prepared dish.
Top with the meat mixture then sprinkle on the cheese to cover.
Pour the remaining cornbread mixture on top.
Bake in a 350 degree preheated oven for 45 mins or until the top is lightly browned.