Mexican Corn Pie (Pastel de Elote)
jill2137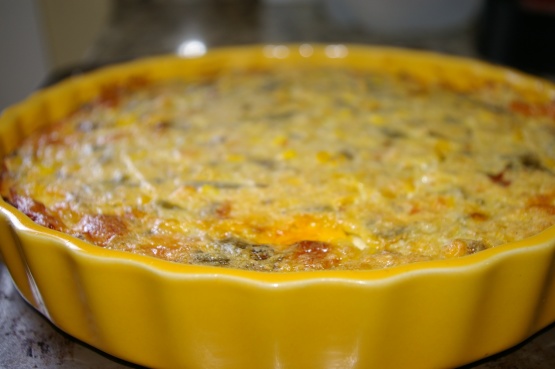 This can be served as a main luncheion dish or as a side dish for dinner. This is great with chilli, or enchilladas, or any mexican dish. Enjoy! Prep time is approximate.

This is a very good recipe..exactly as shown in Colorado Cache, Jr League of CO cookbook pg 257. However i found that 1/2 C butter was WAY too much - 1/4 C or even less is just fine. Otherwise too greasy and dont need all that fat anyway! This recipe is always a hit.
Grease a 10 inch pie plate generously with shortening.
In a large bowl, beat eggs.
Add remaining ingredients and stir until thoroughly mixed.
Pour into pie plate and bake uncovered at 350 degrees for about one hour.
The pie may be baked and kept in the refrigerator for up to 3 days.
Reheat refrigerated pie at 350 degrees for about 20 minutes.
The pie may also be frozen after baking and kept frozen for up to 3 months.
Thaw and reheat at 350 degrees for about 20 minutes.