lazyme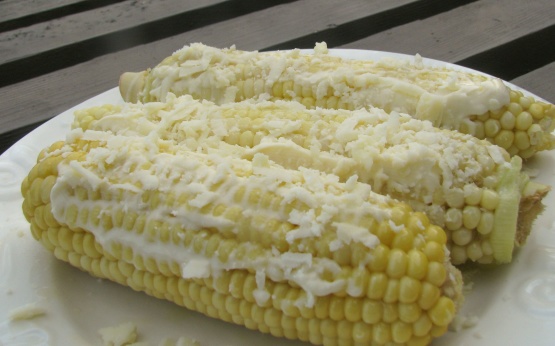 Got this yesterday from a street vender who doing a booming business selling nothing but this delicious corn.

I served this at a corn roast and it was a hit!!! Nice and spicy. I did not use mayonnaise as the recipe called for, as one of our guests has a terrible egg allergy, and the mayo I had had eggs in it. I mixed the ingredients in with melted butter and poured it a big jug so people could just dip there corn in it.
Cook corn by grilling, steaming or by baking.
While warm, spread 1/2 tablespoon of butter and 1 tablespoon of mayonnaise all over the cob.
Take 1/8 cup of cheese, and sprinkle it on cob, then sprinkle on some cayenne pepper and squirt the lime over the cob.