Mexican Cold Cucumber Cilantro soup
COOKGIRl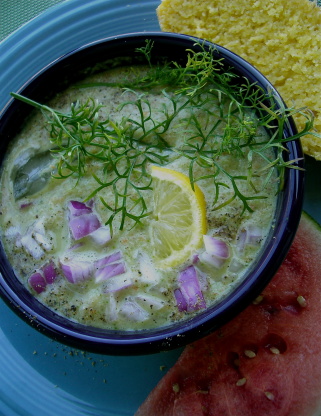 Wonderful cold soup to start off a summer Mexican fiesta. Garnish it with some chopped chives.

I made the recipe as written, and loved it. It was a little foamy, I guess, but I let the soup sit (made it Sunday, then took it all week in my lunch) and the foam settled out. FULL of flavor. Delicious flavor. I also made a Thai variation by substituting coconut milk for milk and lime for lemon, and adding a little curry paste (1 tsp, but could've used more). That worked beautifully as well. Will definitely do both versions again.
In a food processor or blender combine the cucumber, broth, cilantro, milk and lemon juice until pureed Season with salt.
Cover and refrigerate until very cold (you can do the soup a day ahead).
Ladle into bowls and serve.