Annacia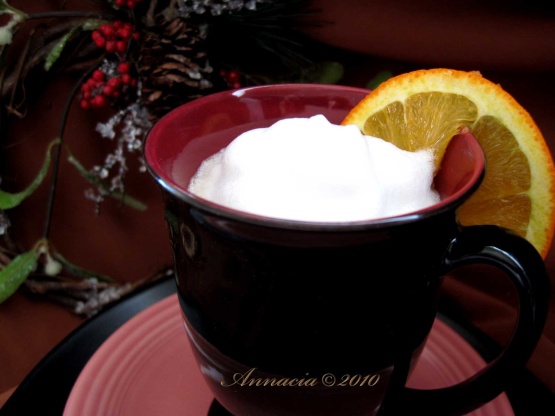 From: "366 Low Fat Brand Name Recipes", this is a great, spicy and milky coffee drink that is a perfect treat anytime.

Mmmmmmmmmm! It's a beautiful afternoon right now and I'm sitting here, looking out at Mother Nature and feeling special to be a part of it, while I am sipping this beautiful unusual spicy coffee that I have come to instantly love! I did sweeten mine with a little sugar, but I think some might like this as it is. Its very relaxing and got great flavour! Love the balance between the orange-ey flavour that springs forth in this and the spices that are equally powered up to give this a kick of their own! I feel GREAT after having this! Maybe I should go to Mexico for a short holiday;) :) THANK YOU for a great beverage!
Remove rind from one orange.
Cut the rind into slivers and the remaining orange into 8 slices (reserved for garnish).
Combine slivered rind, cloves, cinnamon pieces, and coffee in the basket of a coffee maker.
Add 8 cups of water and brew.
Meanwhile, heat milk to simmering in a small saucepan.
Pour into a blender and whirl milk 1 minute until frothy.
Serve milk from a pitcher with the hot coffee.
Garnish mugs with orange slices.