Rita1652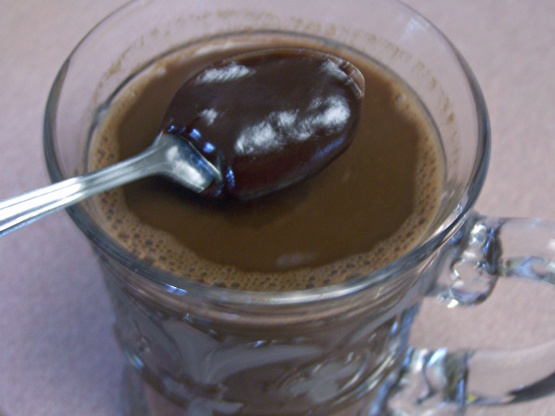 An easy, yummy sauce to serve over ice cream. Adapted from Food Network, Cookiing Live.

This chocolate sauce is amazing! We ate it over vanilla ice cream, but it would probably be even better on coffee ice cream. I used three full "wheels" of Mexican chocolate (which adds up to 9 oz.); I was too lazy to figure out how much of a wheel to leave out. It didn't take me the full 20 minutes to get the chocolate/water mixture smooth, which is good...I don't think we could have waited much longer to taste this. I'll be making this again and again; thanks for posting!
In a metal bowl set over a saucepan of barely simmering water combine chocolate and water and stir until chocolate is melted and sauce is somewhat smooth, about 20 minutes. (Most of the water will have evaporated and mixture will have thickened slightly.) Remove bowl from heat and stir in cream, liqueur(or coffee), and vanilla until combined well.
Cool sauce completely and transfer to a jar with a tight-fitting lid. Keep the sauce, covered and chilled, up to 1 month. Serve sauce over ice cream.