Kim D.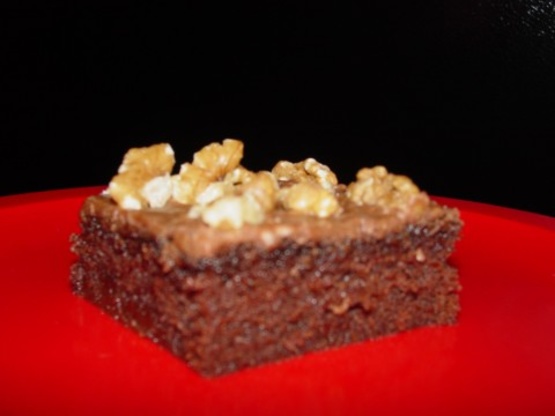 My Mom found this recipe in the local newspaper years ago. Now I make this for my family! The cinnamon makes it yummy!

This cake is supermoist and unique. This same recipe I initially found in one of my cookbooks under "Southwest Chocolate Cake". The only difference was that the cookbook called for the addition of a 1/2 t. salt in the cake batter.
I too (per other reviewers) have used the sour milk method vs. using buttermilk with success. I felt this cake called for a lot of sugar, so I did reduce the original 2 c.called for by a half cup. It was still very sweet. The topping my cookbook calls for is also identical, with the exception that it calls for 7 oz. canned coconut. Try it, I think you'll like it!
Preheat oven to 350 degrees F.
Combine butter, oil, cocoa and water in a saucepan and heat until butter is melted.
In a large mixing bowl, combine flour, baking soda, sugar, milk, eggs, cinnamon and vanilla.
Add melted butter mixture to the flour mixture and blend.
Pour batter into a greased 9X13X2-inch baking pan and bake 20-25 minutes or until done.
While cake is still hot, ice cake.
For icing, combine butter, cocoa and milk in a saucepan and heat until bubbly around the edge.
Remove from heat and add powdered sugar, vanilla, and pecans.