Mexican Chocolate Bread Pudding With Kahlua Caramel Sauce
katew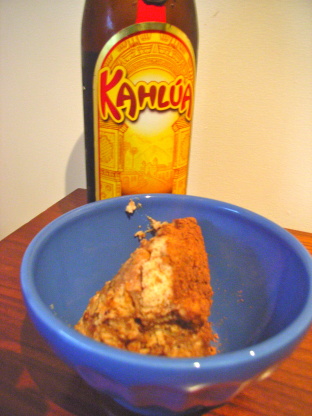 Chocolate, Caramel and Kahlua -- need I say more? I have not tried this yet, but it is on my short list of recipes to try.
Very good! Super-moist, and I liked how the pudding itself was not too sweet. The kahlua provided a nice mysterious background flavor. I only had about half the amount of brioche bread that the recipe called for, so I also used Hawaiian bread. Also just used 6oz of Mexican chocolate instead of a mix of Mexican & bittersweet. Unfortunately, I had trouble with the caramel sauce, as I never used water and white sugar to make it before. After two failed attempts, I just made a sauce out of butter and brown sugar. It tasted great with the kahlua mixed in. A scoop of vanilla bean ice cream really made this a perfect dessert!
Preheat oven to 375 degrees. Butter 12 ramekins or a large gratin dish. Dust with granulated sugar.
Bread Pudding: Whisk the egg yolks in a bowl with the 1/2 cup sugar. Heat the milk and cream in a saucepan over medium heat until steamy but not boiling. Turn off the heat and add the chocolates, salt, vanilla, nutmeg, and Kahlua. Stir to mix. While whisking, pour over the egg yolks/sugar mixture. Gently fold in the bread cubes. Transfer the pudding mixture to ramekins (filled just up to the top) and put on a baking sheet, or use a gratin pan. Bake until nicely browned and set, about 30 minutes (for ramekins) and 45 minutes for gratin pan.
Kahlua Caramel Sauce: Combine 1/2 cup sugar, 1/4 cup water and cream of tartar in a small saucepan. DO NOT STIR. Bring to a boil and cook until the caramel browns. When the caramel is medium brown, remove from heat and carefully add 1 cup of cream and simmer. Add Kahlua.
To serve: Ladle a layer of sauce onto each plate and unmold the ramekin and put the pudding on top of the sauce; or if in a gratin pan, place a large spoonful of bread pudding on top. Dust with powdered sugar and serve warm.