Mexican Chilli and Cheese Dip
2Bleu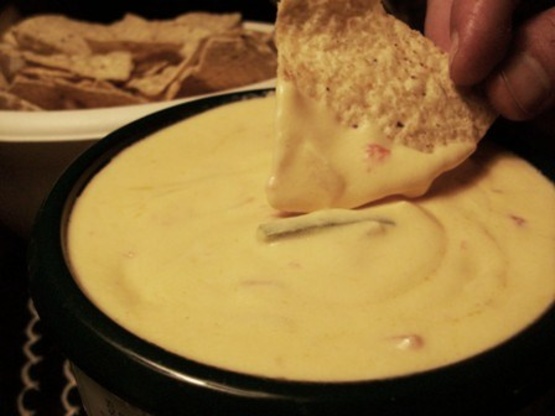 I first had this in a Mexican restaurant in The Venetian Hotel in Las Vegas, the night before we got married. We loved it so much we virtually drank it and licked the bowl clean! This is the closest I've come to replicating it, and whenever I serve it, I see other people virtually drinking it and licking the bowl clean! You can also use this as a sauce!

I made this last night for a dinner party, and it got good reviews from the adults. This was very tasty, but thought the texture was a bit grainy. Next time I might try using Mexican cheese to see if that does it. I am using the leftovers in a mexican omelette this morning and can't wait to try it that way! **** Update: I had an omelette this morning comprised of this, leftover homemade refried beans and leftover empanada filling topped with sour cream (a huevos rancheros like omelette) and it was fantastic!
Place the chilies in a dry frying pan over a moderate heat, turning them frequently until the skin blisters and darkens. Place the chilies in a strong plastic bag and tie the top to keep the steam inches Set aside for 20 minutes, and then carefully peel off the skins. Slit the chilies and scrape out the seeds, then cut the flesh into thin strips, then cut these in half lengthways.
Heat the oil in a frying pan and fry the onion for 5 minutes until it starts to soften. Add the cheese, creme fraiche and cream. Stir over a low heat until the cheese melts and the mixture becomes a rich, creamy sauce. Stir in the chile strips.
Peel the tomatoes by cutting a cross in the base and covering them with boiling water. Plunge them into cold water and the skin should peel off easily.
Cut the tomatoes in half and scrape out the seeds. Cut the flesh into 1 cm pieces and stir them into the sauce.
Serve warm with tortilla chips.