Mexican Chicken With Jalapeno Popper Sauce
gailanng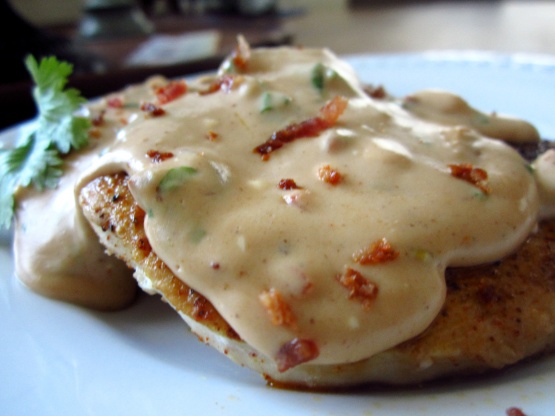 My spin on a recipe off Pinterest.

This was really a surprise. I don't know what I expected, but this turned out better! I chose this recipe because I'm on Atkins and it's very low carb. I used thin-sliced chicken breasts that probably equaled the 3 called for. I really don't like when recipes call for x number of chicken breasts, as they vary so widely in size, so I guess. Anyway, I deviated a bit from the recipe in that I used beef broth (that was all I had) and I lightly salted the chicken breasts during cooking. I used about 5 slices of bacon. The recipe didn't indicate what to do with the bacon, so I crumbled it. My DS pronounced it "yummy" and told me I should keep the recipe to make again, so that's a rave review from him.
Fry bacon until crisp. Remove to paper towel-lined plate. Sprinkle chicken with seasonings while the bacon crisps. Crumble bacon once cooked; set aside.
Add the chicken to the hot bacon fat in the skillet. Cook chicken, turning every few minutes, until juices run clear and no longer pink. Remove from skillet and keep warm.
Add chopped jalapenos to the skillet and cook for a couple of minutes. Add garlic and cook for 30 seconds to a minute more, until fragrant. Add chicken broth, deglazing pan. Bring to a boil. Add cream cheese and stir until melted and smooth. Add in shredded cheese and bacon, stirring until the cheese in melted.
Turn off heat and stir in cilantro. Serve chicken on a bed of Mexican rice and topped with sauce. Garnish with additional cilantro if desired.