lazyme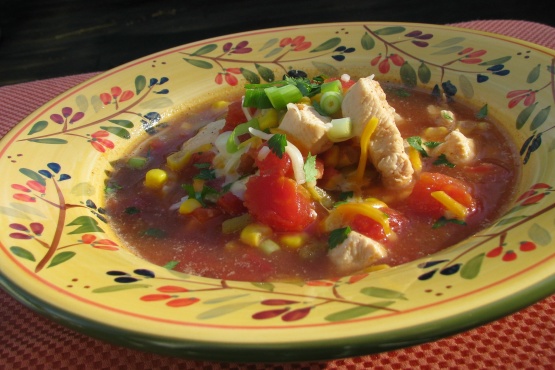 Spicy chicken soup topped with cilantro - super easy to throw together! Don't omit that cilantro, it really 'makes' this soup! Tortilla chips make a nice side to this... or even crush a few and top soup before serving. WW points w/out optional ingredients = 4/serving

Delicious! I added in an onion and crushed chili flakes with the garlic and i also added in 1 tablespoon of chili powder, sprinkled with green onions but omitted the cilantro and left out the mozza cheese, thanks for sharing Brooke!
Cut chicken into small bite size pieces.
Heat large saucepan over medium-high heat, spray with cooking spray (or add olive oil) and saute chicken and garlic until chicken browns.
Add crushed tomatoes, chicken broth, green chilies, corn and chili powder.
Simmer for 20-30 minutes to allow flavors to blend.
Meanwhile, mince cilantro and chop green onions.
Pour soup into bowls and top with cilantro, lime juice, green onions and cheese.