DuChick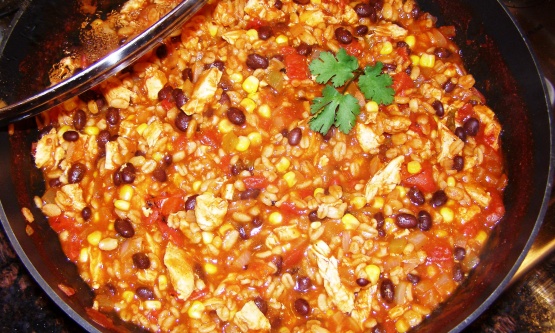 This is really a versatile recipe, and economical, too. It can be used so many ways... as a filling for burritos, a topping for nachos, or as a side dish. I've also served it in bowls with nachos for scooping. I like to add some cheese no matter how I serve it. I had never cooked with barley before I started making this, but found it easy and tasty- kind of like rice. As prepared here it makes a lot, but you could easily half the recipe.

This was good and not overly spicy. In fact, I think I'll add more spice to the leftovers. We ate ours in a bowl with a spoon, stew-fashion. It would be great with tortilla chips too. What I really love is the healthy benefits: low in fat, calories and carbs. I did add a can of black beans and some chopped cilantro. Thanks for sharing this recipe and congrats on being Chef of the Day!
In a large Dutch oven, cook the onion and garlic in oil until tender.
Add in all ingredients (including spices) except for chicken. Bring to a boil.
Reduce heat and simmer 10 minutes, stirring occasionally.
Add the cooked chicken; continue simmering another 10 minutes or until the chicken is heated through and the barley is tender.
To freeze: cool, spoon into quart-sized freezer bags, label, and freeze flat.
To serve: Thaw chicken mixture. Heat in a skillet until hot. Serve over corn tortilla chips or scoop into flour tortillas, fajita-style.
Note: If you choose to use regular barley rather than quick cooking barley, you'll want to cook it ahead of time, which takes about an hour. Follow the directions on the box.