Mexican Chicken Casserole
Parsley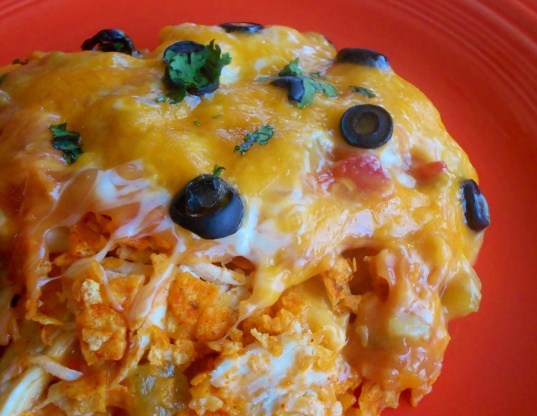 This is a delicious dish that gets rave reviews! I get many requests for this recipe. :) I've also froze it for OAMC, too!

Top Review by Deanna
This was wonderful and sooo easy!!! The entire pan was eaten up. I added a little extra salsa (I used 1 1/2 cups), extra chicken (I also added ADOBO to my chicken while it was boiling) , a small can of sliced mushrooms, and some cooked rice. The rice gave it some substance so it wasn't "dippy" I mixed everything together instead of layering it, except for the cheese, which I put on top. I also waited until the last five minutes of cook time and put the crushed doritos on top (so they didn't burn) instead of layering them on the bottom.. I will surely be making this again. It was a big hit! Thanks!!!
Boil the chicken until done. Pull apart. Keep the broth.
Mix soups, salsa, and chilies together. Set aside.
In 13x9 pan, layer half of the doritos, half of the chicken, half of the sauce, and then half of the cheese. Pour about 1/4 cup of the broth on top.
Repeat ending with cheese and broth.
Add on sliced jalapenos or black olive slices for presentation, if you wish.
Bake at 350 for 30 minutes.