Mexican Chicken and Rice Casserole
DuChick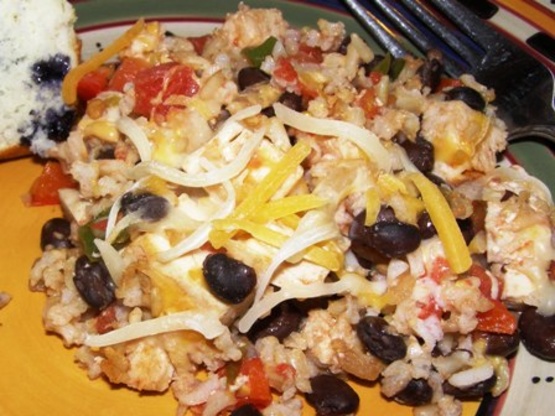 This is delicious and easy to make! The flavor is incredible!

This was a quick, healthy meal! I couldn't find a 'yellow rice mix' as stated, only one with saffron seasoning and I didn't think that would work well. So, I used brown rice. I also had some red pepper that I added to the mix which added more color and flavor. I rinsed and drained the beans too. Update to 5 stars: This dish's flavore was even more fabulous the next day! My son asked to keep the leftovers for just HIM! MERP'd for my adopted chef in Spring PAC '10.
preheat oven 350 degrees. cook rice according to package directions, sautee onions and bell pepper in oil for 10 minutes In large bowl combine black beans, 1 1/2 cup Cheese, Rotel, Chicken, Bell Pepper/Onion Mixture, and yellow rice. Spoon into 13x9 dish sprinkle the rest of cheese on top, bake covered for 30 minutes.