MI Mom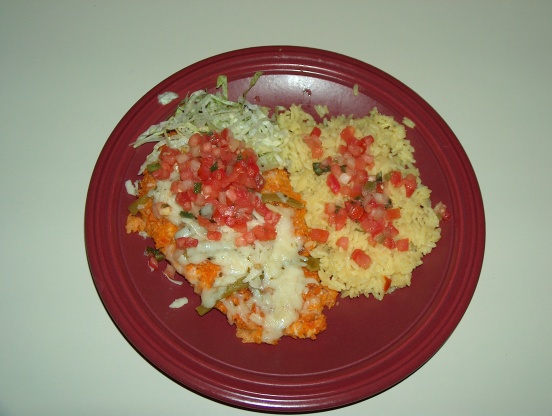 Fast easy chicken for weeknights - whole family loves. Easy to adjust for "spicyness", change from Montery Jack w/Jalapeno to regular Montery Jack Cheese and skip the chiles. I Serve with fresh salsa and avacado. I make boxed yellow rice as a side. (Notes: Don't be afraid of the Doritos and works very well with frozen bagged chicken breasts)

I had some leftover doritos in need of consumption. It worked out alright (3stars) but then I tried it with fresh doritos (5stars). It makes a big difference. Make sure to use a new bag.
Heat oven to 400°F.
Rinse and pat chicken dry.
Flatten all chicken breasts to even thickness.
Crush Doritos to a very fine texture,(I use a meat tenderizer and a plasic bag), place in shallow dish.
Mix together egg white, garlic, and juice from the lime.
Dip chicken into egg mixture and then coat with Doritos.
Place in baking dish, cook for 20 - 25 minutes.
Remove from oven, place chile strips on chicken, cover with cheese.
Bake until cheese is melted - about 5 minutes.
Remove and serve - garnish with Salsa and Avacado.