Mexican Cheese Grits Souffle
Prep 30 mins
Cook 45 mins

Woohooo The US South, Mexico and France all in one recipe!!! If jalapenos are too hot, sub in the diced green chiles from a can.
Directions
Preheat oven to 350º.
Stir grits into boiling water; add salt.
Cook 10 to 20 minutes, stirring frequently, until grits are thickened; remove from heat.
Add cheese, stirring until melted.
Saute' onion and garlic in butter; add to grits.
Stir in peppers.
Add a small amount of hot grits to egg yolks, stirring well.
Add egg yolk mixture to grits, mixing well.
Beat egg whites until stiff; fold into grits.
Spoon mixture into a greased 2-qt. casserole.
Bake at 350º for 45-50 minutes.
Most Helpful
Delicious! Made 1/2 recipe with diced green chilies 'cause that's what I had on hand. Will post pic. Thanks for submitting this great side dish.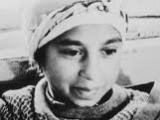 This is a great recipe for grits! I loved the complex flavor; I will definitely make it again!

I'm excited, cant wait to make this. I ordered grits from SC or perhaps Nc and I need every excuse to use them. This sounds great. DH is allergic to onions. Do you think it will affect the taste much? If it does I take it into consideration, and if it make a big difference I simply don't rate it since I'm changing the recipe. Leanne I've made this and it is my favourite mexican recipe Team F