Mexican Casserole - Fast and Easy
Fauve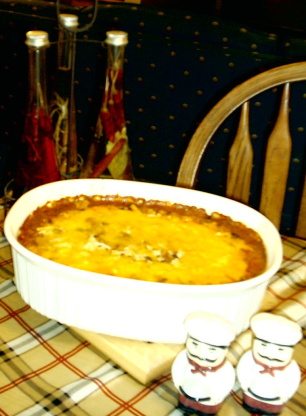 Quick and good, just the way I like it!

Delicious!! I purchased everything to make this casserole, but somehow the tortilla chips managed to magically get a rip and my chip loving family had to help them from a near certain staleness death.

To compensate I added 2 cans of whole kernel corn. This was great! Tasted like chili that had cooked for hours upon hours, with only 30 mins in the oven. Will most def make this again!! With the corn!
Brown beef with onion and drain.
Add to beef the enchilada sauce, cream of mushroom soup, rotels, and ranch style beans.
Pour mixture over crushed tortilla chips in 9X13" pan.
Mix together and cover with cheese.
Bake for 30 minutes at 350.