SharonChen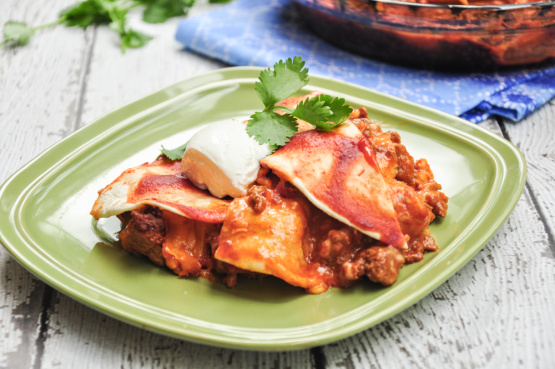 This is a recipe I made up and my kids love it!

Keeper! Since ground beef is running around $4# around here I've been subbing beans where I can. I did that here with excellent results. Sautee'd the onion, added the Refried Beans and seasoning. In a bowl I combined the sauce, soup and lots of extra chiles (we love them). Rather than layering I rolled like Burrito's and topped with sauce mixture and cheese. Baked for 25 minutes. Delicious! Thanks for sharing. ETA: I did not use the Taco Sauce. They were wet and creamy enough.
Brown hamburger meat with onion and taco seasoning.
Mix mushroom soup and enchilada sauce together in a bowl.
Cut tortillas into triangles.
In a 9x12 pan put a layer of tortillas.
Then a layer of Hamburger mixture.
Then a layer of Soup mixture.
Then a layer of chiles.
Then a layer of cheese.
Then repeat again.
The last layer should be tortillas.
Then spread taco sauce on.
Then top with cheese.
Bake in a 375°F oven uncovered until bubbly.