loof751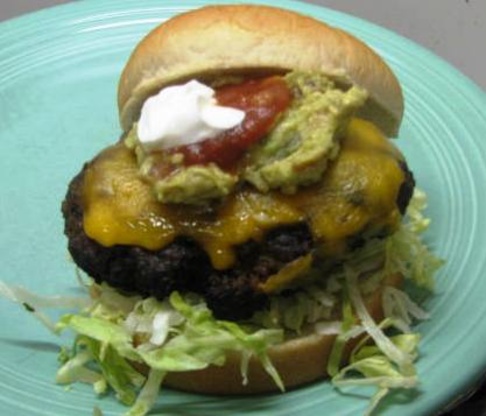 I found this in an old BH&G mag, it's a bit different to the other mexican burgers here. My DH just loved this.

These burgers were fantastic!! Loved the addition of the beans and the seasoning was perfect. The guacamole, salsa and sour cream toppings were a great finishing touch. I made these just as specified except left out the onions and cooked them on the grill instead of frying. We just loved these burgers!!
Combine mince, beans, seasoning mix, onion, egg & breadcrumbs in a bowl.
Divide the mixture into 6 portions and shape into flat hamburger patties.
Heat the oil in a frypan & cook the patties over med heat for 3-4 mins each side or until cooked through.
Place a couple slices of cheese on top of each patty. and continue cooking until the cheese starts to melt.
Toast & lightly butter the hamburger buns. Top the bases with lettuce leaves, a hamburger patty, and a generous spoon of each the guacamole, salsa & sour cream & finish with the bun lid.
To make guacamole, combine all ingredients in abowl & mix well to combine.