anme7039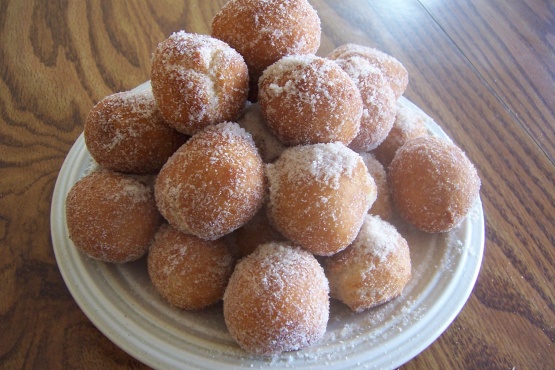 My mom used to make these every year with her Spanish class students. We LOVE them! Kind of a mexican version of elephant ears, but different. VERY addicting! This makes a lot, so you may want to cut the recipe in half.

These are an amazing and easy to make treat. Don't believe me? I, a 15 year old highschool student and my friend, also a 15 year old made them perfectly in about 25 minutes. (Ironically for a spanish project)
In large bowl, mix flour, baking powder, salt and sugar. In smaller bowl, beat eggs and milk. Add this gradually, beating, to flour mixture.
Add a half a stick melted butter, beat.
Place dough on floured surface and knead til silky and elastic.
Roll into balls or ropes, and flatten with the palm of your hand.
Fry in hot oil, (370º), til golden.
Drain on paper towels.
Roll/toss in cinnamon/sugar mix.