3 Reviews
I was looking for something salad-y to do with bulgur other than tabbouleh, and this *so* hit the spot! I toasted some cumin seed and then crushed it rather than using ground cumin -- definitely the right move. And, realizing how much liquid bulgur can absorb, I went with more like 1/3 cup of both the lime and orange juice, which I think was a better option. All four of us who ate it (and there were left-overs for tomorrow) liked it a lot, so I'm certainly putting it in the rotation. Love those citrus notes!

I think this is a delicious wheat salad. I used whole wheat berries cooked 'til tender instead of bulgar. I also roasted the ground cumin in a dry skillet for a few seconds (until I could smell it). Think it adds a little to the flavor. I will do as another reviewer suggested and double the cumin next time. I also added a bit of finely minced garlic and some chili powder. I think next time I will up the jalapeno too. Sort of wanted to add some red wine vinegar, but didn't - maybe next time. All in all, a refreshing salad. Kinda reminded me of a salsa.
This is a great recipe. I think the serving size is rather large unless you eat it as a main course. As a side dish, I can actually get 6-8 servings. For those who love cumin, you can double the amount and still be fine. I could taste just a hint of cumin as stated above. Just wonderful!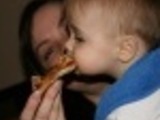 Mexican Bulgur Salad With Citrus-Jalapeno Vinaigrette