Debbwl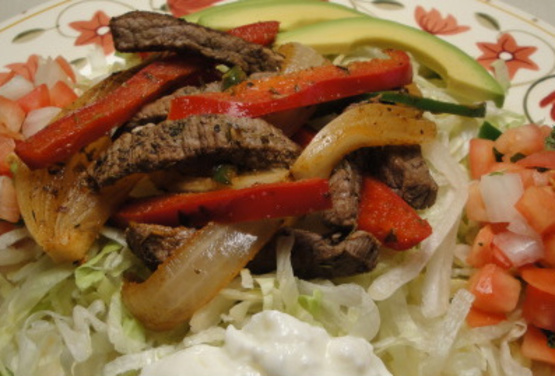 This is a very unique stir fry, in that it's served on a bed of shredded lettuce instead of over rice! To save time, you can buy a bag of pre-shredded lettuce. I like 2 or more jalapenos, but I like things spicy. If you'd like, you can garnish with salsa, diced avocados, chopped green onions, and sour cream! I like this served hot, but you can serve it cold as a salad....but I really like it hot over the cold lettuce!

Love the idea of serving a stir fry over lettuce! I used green chile instead of jalapenos, but otherwise followed the recipe. Quick and easy! Will make again, but will try doubling the spices and adding a touch of salt to the meat - I like flavour-intensive stuff! Very good, thank you for sharing!
Trim excess fat from the steak; slice steak diagonally across the grain into 1/8 inch strips. Set aside.
Combine oil, garlic, cumin, and oregano; stir well. Heat half of oil mixture in a large nonstick skillet over medium-high heat for 2 minutes. Add onion, red pepper, and jalapeno pepper, and stir-fry 2 minutes, or until crisp-tender. Remove vegetables from the skillet; set aside, and keep warm.
Add remaining oil mixture to the skillet. Add the reserved beef strips, and stir-fry 2 minutes. Return vegetables to the skillet and stir-fry until thoroughly heated. Serve over lettuce, and garnish if desired.