Parsley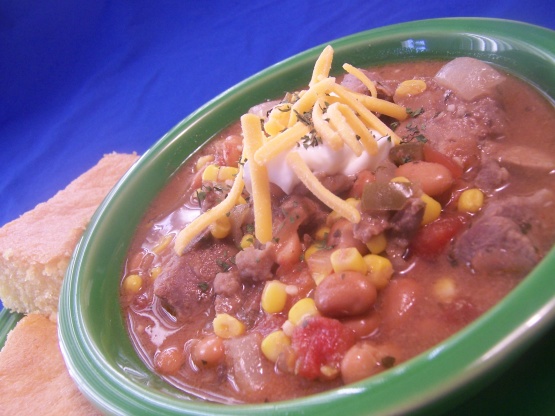 This is a great crockpot recipe to serve on a cold winter day. I serve it with a little grated cheese to put on top and cornbread. This will put some pep in your step!!!

Wife made this for supper tonight and did not look good but was great. I ate two big bowls and It all gone.Excellent
Dredge the beef with the flour.
Heat the oil in a skillet over medium high heat and brown beef.
Stir often.
Place beef, onion, beans, corn, consome, salsa, chili powder, cumin and garlic powder in 3 1/2 quart slow cooker.
Cover and cook on LOW for 8-10 hours or until beef is done.
You may also cook it on high for 4-5 hours if you are pressed for time.