Acerast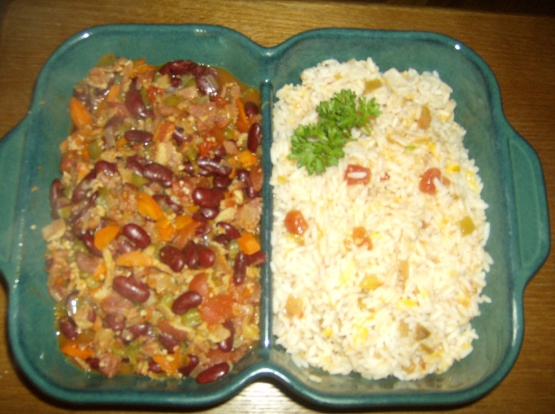 A hearty Mexican vegetable dish made with red kidney beans. To vary the dish, vary the beans. And to make it vegetarian, omit the bacon or replace it with vegetarian sausage. I have posted this recipe, adapted from an International Masters '1001 recipes for Pan or Wok' for the 2005 Zaar World Tour.

Top Review by J-Lynn
Good! But this tastes very similar to recipe #48284, which is much faster to make. I was disappointed because I was looking for something different. I would like to tweak it so the sweet chili sauce is a more pronounced flavor in the final dish.<br/>5/24/13: Better- 1/4 cup sweet chili sauce, smoked paprika instead of cumin, and a tablespoon of bbq sauce. A whole different recipe, I guess... but very delish!
Peel and crush the garlic; peel and slice the onion and carrot; deseed and dice the red capsicum; coarsely chop the bacon by cutting with kitchen scissors.
Heat the oil in a large, deep pan, preferably non-stick; add the onion and bacon and sauté for 5 minutes; add the carrot, garlic and red capsicum and sauté for a further 5 minutes.
Add the kidney beans and the can juices to the pan, stir in the tomatoes, cumin and chilli sauce, and season to taste with salt and black pepper; and bring the mixture to the boil.
Reduce the heat and simmer for about 40 minutes, or until the liquid has thickened; garnish with chopped fresh coriander and serve hot. if the liquid starts to thicken too quickly, reduce the heat slightly and stir in a little boiling water or a little wine (at room temperature).