Ms B.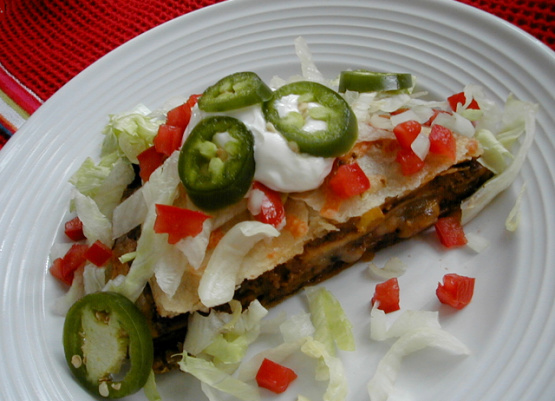 My own concoction of a layered Mexican Pizza. Its basically taco meat, beans, and the fixings...but its a big hit with my family.

Top Review by Ms B.
I prepared this with a few adjustments to suit our tastes and ingredients that I had on hand. Firstly, I used beef broth instead of the water and beef bouillon to simmer the ground beef. I also do not care for canned corn and instead stirred a can of diced green chiles and thawed frozen corn into the beef mixture. My pantry didn't have any refried beans. So, I whirled a can of black beans in the food processor with onions, jalapeños and seasonings to create my own. I also used a mix of cheddar and pepper-jack cheese in the layers. This was a hearty Tex-Mex kind of meal served with shredded lettuce, diced tomato and onion, sour cream and guacamole.
Brown meat, and drain.
Add seasonings and water.
Simmer, stirring occasionally for 15 minutes or until water has evaporated.
Add drained Mexicorn, and set aside.
Combine beans, cumin, and sour cream.
Spray an 11 inch springform pan with Pam, and place a tortilla inside.
Spread 1/4 of the bean mixture over the tortilla, top with 1/4 of the meat mixture, and 1/2 cup of shredded cheese.
Top with another tortilla, and repeat all steps.
Top with final tortilla, and spray liberally with Pam (or I just pour a handful of olive oil on top, and spread it around) Bake at 375°F for 25 minutes, or until top tortillas is golden brown.
Let sit for about 5 minutes to set.
Slice into wedges, and top with lettuce, tomatoes, salsa, guacamole, sour cream, and black olives.