CoffeeB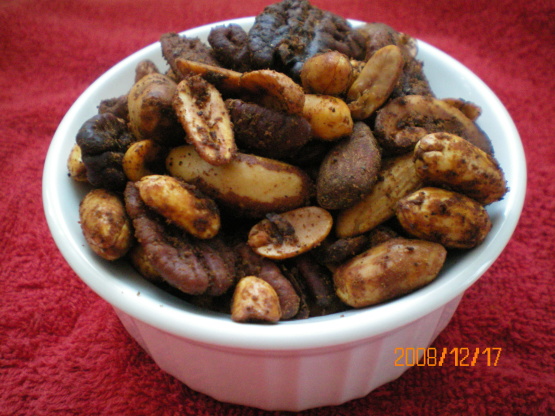 You'll feast on the feisty chili-style flavors of this addictive nut mix. From Southern Living Ultimate Book of Appetizers.

Wow...these spices sure do add an x-tra zing to everyday plain-ol nuts. I used about 2 cups of pecans and the about 2 1/2 cups of mixed nuts along with regular peanuts. These would make an especially nice gift for a man especially the MEN in this family. They loved em...thanks FN. Made for NewKids on the Block!~
Combine pecans and peanuts in an ungreased 13 x 9-inch pan.
Combine egg white and remaining 6 ingredients in a small bowl, stirring well.
Pour over nuts, stirring to coat.
Bake uncovered in a 350 degree F oven for 30 minutes or until toasted.
Cool completely in pan on wire rack.
Store in an airtight container.
Yield: 4 cups.