Mexi-Potato Breakfast Tostada With Bacon
aeht206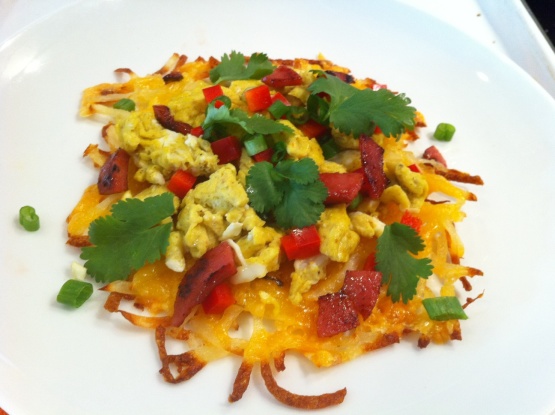 Ready, Set, Cook! Special Edition Contest Entry. This is an easy, delicious breakfast item that uses crispy cheddar hashbrowns as the base of the tostada. Cumin in the scrambled eggs gives it a subtle mexican flavor. The bright colors of the garnishes make it all the more inviting. And there's bacon!

Top Review by mimaha
Delicious for a crowd but can also be adjusted for one or two servings. Of course, making the full recipe allows for a second go-round!
Preheat an over to 425°F Place a Silpat or other silicone liner on a cookie sheet and spray with olive oil. For each of the 4 servings, place 1/4 cup Simply Potatoes Shredded Hash Browns in each quarter of the silicone liner. Spread out each pile of potatoes so that they are flat, about 5 inches in diameter. Place 1/4 cup cheese on top of each, and spread out evenly. Bake in the oven until golden brown on the edges, about 15 minutes.
Meanwhile in a medium bowl, whisk the eggs with the cumin, salt and 2 tablespoons water. Heat a medium nonstick frying pan to medium and spray with olive oil. Cook the scrambled eggs until done to your liking.
To serve, place each potato disk on a plate, then top with 1/4 of the eggs. Garnish each serving with the cooked bacon, red bell pepper, green onion and cilantro sprigs.