-Sylvie-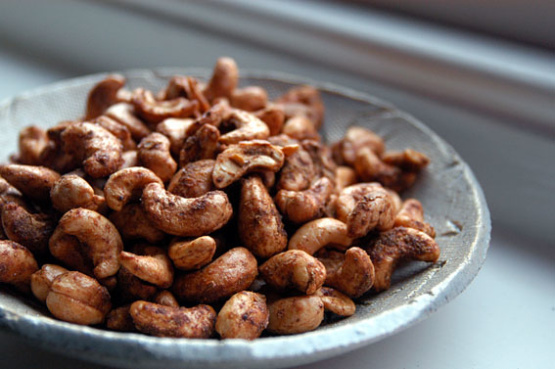 Served at our wedding. A little pre-wedding snack with cocktails. Cashews are the perfect sweet nut for these pungent seasoning.

I have made this recipe several times now and I've used peanuts, cashews and pistachios. They are all great. I also added 1 tsp of lime juice to the egg white (instead of water) for more tang. I also used 2 tsp chili powder (New Mexico Hot Chili powder) and increased the cayenne pepper to 1 tsp. We like them just a little kickier! These are fantastic whatever nut you decide to use. UPDATE: (8/08) I made these again with peanuts recently and instead of the cayanne pepper I used 1/2 tsp ground Chipotle Chile Pepper - fantastic!!! Very smoky flavor.
Preheat oven to 300 degrees F (150 C).
Line a baking sheet with foil and spray with vegetable oil.
In a medium bowl, whip the egg white with a few drops of water until frothy.
Add the nuts to the egg white and toss to mix.
Use a slotted spoon to transfer the nuts to a clean large bowl.
Mix the spices together in a small bowl and then sprinkle on top of the nuts and toss to coat.
Spread the nut mixture in one layer on the baking sheet.
Bake, shaking or stirring once, to make sure they toast evenly, 25-35 minutes, until they are crisp and browned.
Transfer the nuts to another cool flat surface to cool and crisp.