Metric Jester's Beef, Barley and Onions
Nif_H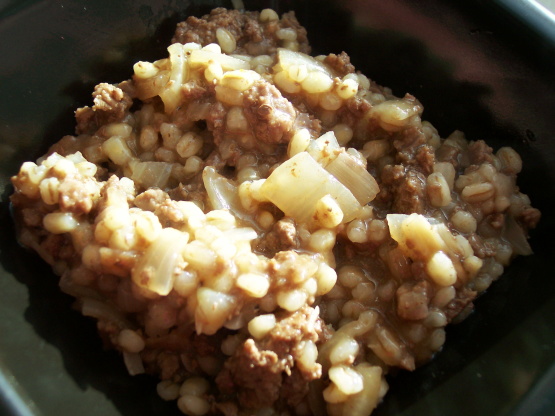 After playing around with steamed barley, I realized I didn't have to use just water to steam the barley. Now this may sound like a basic cooking technique to you, but to me it was a revelation in the form of a new recipe. I grabbed a bunch of ingredients I had around my house, put them on the counter and made this up in my head. I suggest you double up the recipe, cause this barely feeds me by myself it's so good!

Top Review by Nif_H
This was really good for someone who was just playing around! I made this exactly as listed, using extra lean ground beef. I think that this would be good with mixed veggies and a fresh roll. I made this for my adopted chef, Metric Jester, for this round of Pick A Chef! Thanks Jester! :)
Brown beef and onions together in dutch oven until onions are soft, season as desired (I like montreal steak spice)
Stir in barley, onion soup mix and boiling water.
bring to boil, then reduce and simmer for 30 minutes.