Methizmena (Drunk Cookies in Greek)
katia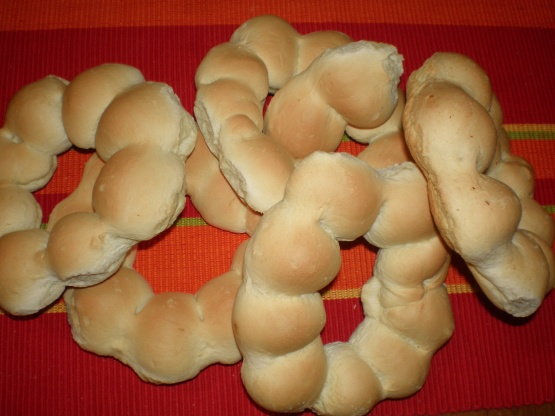 Post on request. Those are cookies that in some places of Greece make for Easter. It's a bit difficult to make but tasty and unique!

This is definitely a LABOUR of LOVE recipe...LOL! I would not recommend for the amateur Baker, either! As recipe poster mentions (((KATIA)))a VERY DIFFICULT DOUGH to work with. I halved the recipe with no MAJOR problems and yielded 20 cookies. (I used 1/2 Teaspoon of Ammonia Baking Powder worked fine!) Dough was/is very crumbly/dry to work with kneading by hand constantly over and over again. I placed dough in Kitchenaid Mixer with dough beater, became even crumblier...Took out and continued to splash with OUZO and worked by hand into an egg shape amount of dough for each cookie. Then I rolled into an 8 inch log and sealed to form a circle. PATIENCE/PERSISTENCE is a MUST here!!!! however, yields a VERY AROMATIC GREEK OUZO BISCUIT, which fills home as it bakes! Great for LENT for EASTER! KATIA, THANKS FOR POSTING!!!
1

kg flour (the best quality)
1⁄2 cup olive oil

28

g baking ammonia

200

g sugar

2

cups ouzo (maybe more)
Mix the flour with the olive oil into crumbs.
Dissolve the sugar to 1/2 cup of ouzo and the baking ammonia to a little more of ouzo.
Mix the two previous liquids with the flour and put as much ouzo to make a firm dough.
Then its the difficult part. Knead the dough by hand in very little amounts in order to make the dough fluffy. Maybe it can be done in a food processor little by little.
When make the cookies. Pinch off small egg-size pieces of dough and roll them under the palm of your hands into a 9-inch rope about the thickness of your finger. Bring the two ends together and pinch them closed.
Bake until done, 40 minutes or so. They are going to be white and very crispy.