Mesa Grill Blue Corn Muffins (Gluten Free)
PaulaG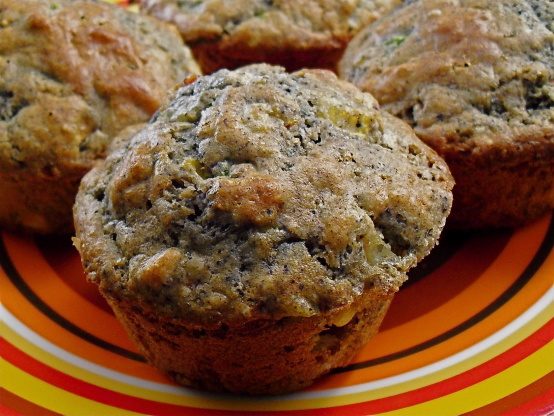 This recipe was so easy to convert to gluten free due to the small amount of flour used.

Very good & truly blue! I had a bag of blue cornmeal in the pantry & a curious beginner cook so the two set forth with this recipe. I can't comment on the gluten free aspect as we used regular flour & omitted the xanthan gum. The batter was a tiny bit thin, but still rose into nice muffins. The addition of red pepper, jalapeno, cilantro, & corn is what makes these special. Next time I might add a small amount of splenda as we prefer slightly sweet cornbread. Served with picadillo one night & soup the next. Thank you for sharing this keeper! :-)
Position oven rack in the middle of the oven and preheat to 400°F Grease a 6-slot muffin pan with non-stick vegetable spray.
In a small saucepan, melt the butter. Add the onions and garlic and cook until soft.
In a small mixing bowl, whisk together the milk and eggs. Whisk in the butter mixture. In a separate bowl, whisk together the cornmeal, flour, baking powder, soda, salt, sugar and xanthan gum. Stir in the liquid mixture and stir to combine. Fold in bell pepper, jalapeño, corn and cilantro.
Divide the batter evenly among the muffins slots and bake for 20 minutes or until set.