Mermaid Delights (Tuna Patties / Burgers)
Boomette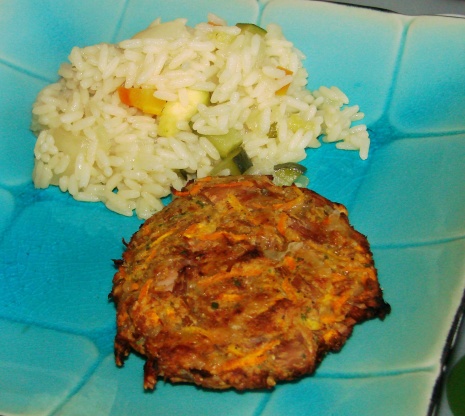 These are nice and juicy - a great cheap meal. From Better Homes and Garden - when I was little my sisters and I used to eat them just because they are called "Mermaid Patties." :-) Simple, healthy, and great tasting.
This is a great recipe. Very kid pleaser. My son had this for dinner and he told me 5 stars. There was nothing left of the tuna patties in his bowl. But the rice I gave him was still in it. So I guess the patties were a success. And that's great cause there is no oil to cook them. Thanks Random Rachel :) Made for All you can cook buffet
1

(6 1/2 ounce) can tuna

1

egg

14

Ritz crackers (or about 1/2 cup breadcrumbs)

1

medium carrot, shredded
1⁄3 cup shredded cheddar cheese
If you'd like to, run your carrots through a food processor so they aren't identifiable in the finished patties.
Blend all ingredients together in a bowl, and form 3-4 patties. Preheat your ovens broiler.
Broil for 4 minutes on one side, flip, and broil for 3 minutes more. Add a slice of cheese if desired, and broil 1 minute more.