sheepdoc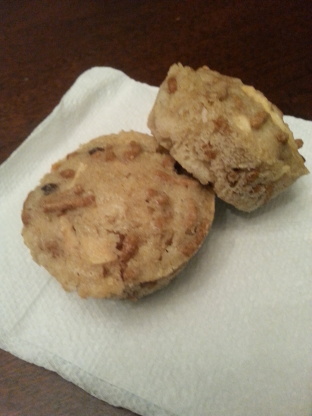 A recipe by Nancy V. Clark from the "From the Governor's Pantry" cookbook, Lind House Association in New Ulm, Minnesota, July 1988. The book is dedicated to the many volunteers who had donated their time, talents and money to restore the John Lind home.

These were surprisingly good. The fiber one pieces were nutty. Next time i might break them up so they don't look like worms. Usually I replace the oil in muffins with Greek yogurt but there wasn't very much oil so I made as written. Made for My 3 Chefs 2013.
Combine bran and milk and let stand for 5 minutes.
Mix the flour, baking powder, sugar, salt and cinnamon; make well in the center.
Combine egg, oil, apple and raisins, bran and milk.
Add all at once to dry ingredients.
Stir quickly just until dry ingredients are moistened.
Fill greased muffin pans 2/3 full.
Sprinkle sugar and cinnamon on top.
Bake at 350 degrees for 20 to 25 minutes.