Pam-I-Am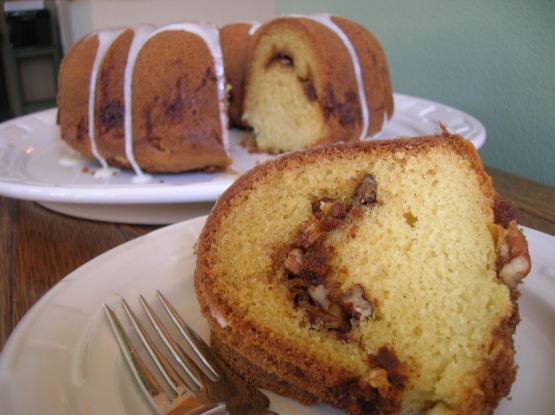 This is a holiday staple at my house for as long as I can remember. I remember waking up at Christmas and eating it for breakfast. Now, my neighbors wait patiently for me to bring it to them on holidays. You will love it, and prepare to fight for the last piece. Cut it in half, and in half again, then make each quarter into three pieces, a total of 12 pieces.

I thought this was a delicious coffee cake. I chose it because I had all the ingredients and needed to make one for church tomorrow. I had one problem tho....the batter came out very thick and did not seem like enough to fill my bundt pan to the top when baking....so I put the whole recipe of batter as the bottom layer, placed the brown sugar mixture on top and then made up a 2nd batch of batter for the 2nd layer. So for my liking, I found that I needed to double the cake batter part so it would fill the 10" bundt pan completely when baked. I did find that the 50 minutes baking time was still fine for the doubled batch. It was moist and flavorful and perfect for the coffee hour tomorrow.
Instructions: Make crumbs first.
Then, make the batter.
Add ingredients in order listed.
Cream shortening, sugar, and eggs.
Add the rest of the wet ingredients, and then slowly add the dry ingredients.
Mix to combine, do not over mix.
Put 12 the batter in a greased 10 inch bundt pan.
Add 12 crumbs and then add the rest of batter, and top with rest of crumbs bake 350°F for 50 minutes until top is browned, and a fork comes out clean.
Cool slightly and remove from pan to a cooling rack.
Cool completely & then drizzle on icing.
Serve with margarine or butter.