Meringue With Strawberries and Cream
Luschka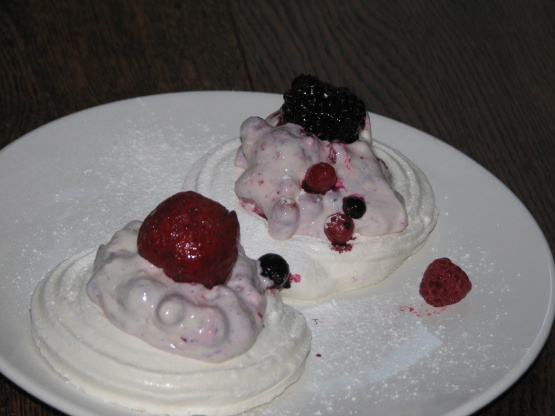 So light, easy and yummy!!! Good for calorie counters too. No need to add sauce because the strawberries will make their own sauce when added to the whipped cream.

These were fabulous! So quick and easy to make, and absolutely tasty! It's the kind of desert that you COULD have spent hours on, but didn't! I used mixed berries, as that's what I had, and sprinkled some icing sugar, just to make it look pretty. I love this, and will definitely be making it for guests and for ourselves again and again in the summer, cause it's a perfect summer desert! (Reviewed for Spring PAC 2007)
Whip the whipping cream powder with 1 glass of water (I use water instead of milk to make it lighter, but you could use milk for a richer cream).
Cut the strawberries in halves.
Add strawberries to whipped cream and mix well.
Serve the cream on top of each meringue only when about to be served so that meringue stays crispy. You could garnish with a strawberry on top.