reddie28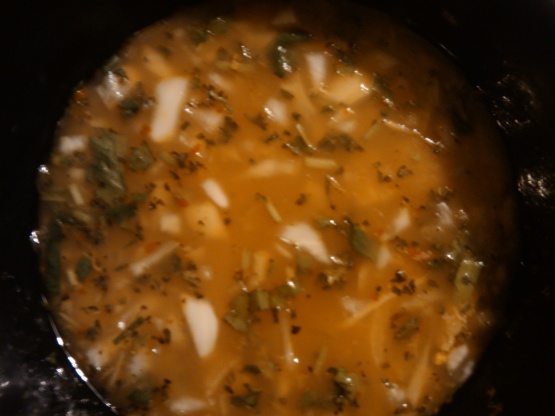 This is the perfect red menudo. It takes a long time to cook so you may want to try this on a weekend if you work outside the home, but believe me, it so very good and actually quite simple to prepare. This is a meal in itself. This is fairly spicy, but you can adjust the heat level by reducing the amount of ground red pepper. Enjoy!

This recipe is great and simple. I used pressure cooker to speed up the cooking process. I cooked the tripe twice as directed but I use pressure cooker instead. It cuts down the cooking process. Yummy!! My husband's grandma would have approved!!! Thanx!
In a large pot, bring 1 gallon water to a boil.
Place tripe in the pot, reduce heat, and simmer 2 hours.
Periodically skim off fat with a spoon. Drain water, reduce heat, and pour in a fresh gallon of water.
Continue to simmer tripe for 2 hours; drain.
Pour remaining 1 gallon water into the pot with tripe, and bring to a boil.
Stir in garlic and 1 chopped white onion. Season with salt, pepper, oregano, and red pepper.
Reduce heat, and simmer 1 hour.
Preheat the broiler.
Arrange the de arbol chile peppers on a baking sheet, and broil about 2 minutes, just until they begin to scorch.
Remove from heat, slit lengthwise, and remove seeds.
In a blender or food processor, blend the de arbol chile peppers and japones chile peppers until very finely chopped. Mix into the pot, and continue cooking 2 hours over low heat.
Mix the hominy into the pot and continue cooking 1 hour.
Serve with condiments as listed under ingredients.
Menudo is at it's best made a day ahead of time to allow the ingredients to "marry.".