Menestra (Spanish Style Veggie Stew) (Vegan Too..!)
Annacia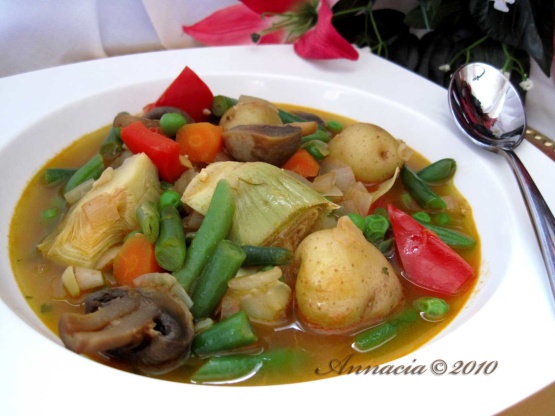 Another gem from the Moosewood Cooks at Home book. You can add or sub any veggies you like to this (green beans work really well). It can turn into a bit of a fridge clearer at my house! And I sometimes add a bit of chunked tofu too. It's one of those recipes where you don't need to have everything prepped and ready to go, you can wash/peel/chop as you go down the list. Although you would think spanish paprika would be recommended for this, the book actually suggests sweet hungarian as the best choice.

I'm so happy that I chose to make this recipe. It sounded very good when I chose it but the sum is more than it's parts. We have been having wicked summer storms for he last several days with driving rains and winds up to 90 miles per hr. This was heart warming and comforting tonight. I think that it might be the artichoke liquid that worked the flavor magic. I omitted the Sherry for personal taste. I will very happily be making this again. Thanks so much Magpie for posting this one. :D
In a large pot, saute the onion and garlic in the olive oil over medium heat until translucent.
Add the carrots, followed by the potato, the paprika, bay leaves and cayenne. Saute for a few minutes watching it doesn't stick or start to burn.
All together you want 2 cups of liquid - use up the liquid from the tinned artichokes then top up with water to get 2 cups. Pour in the water, sherry and 1/2 tsp of salt. Cover and bring to a gentle boil, then reduce to a simmer for about 5 minutes.
After a few minutes add in the mushrooms and bell pepper and let those simmer with everything for a few more minutes.
Once the veggies are just tender, stir in the artichokes and peas. Simmer about 5 more minutes and adjust salt to your taste, turn the pepper grinder over the pot a few times and it's done. I like to let this simmer on a little longer so that the flavours really blend together. Serve topped with olives and parsley if you choose, and maybe some crusty bread on the side.