Menemen (Spicy Turkish Scrambled Eggs)
Cluich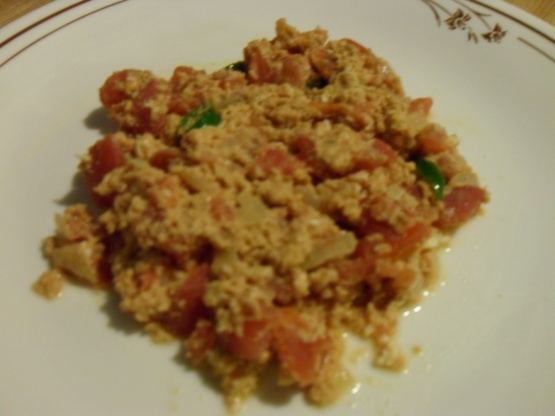 This has become a regular for me. I make it whenever I'm cooking breakfast just for myself (my family's not a big fan of the chilies and tomatoes mixed in with the eggs, but I love it). It might look like a pile of slop, but it tastes soooooo good! Seed the chilies if you fear the heat. Either way, these make a delicious breakfast, served with toast or, ideally, Turkish bread.
Melt the butter in a large skillet and sautee the onion until soft. Add the peppers and sautee for 2 to 3 minutes, then add the tomatoes and cook for 2 or 3 minutes more.
Meanwhile, beat the eggs with salt and pepper, to taste, and the paprika powder. Pour the egg mixture over the vegetables. Keep stirring with a fork or whisk until set, then serve.