Memphis Mustard Coleslaw Tangy and Hot!
JustJanS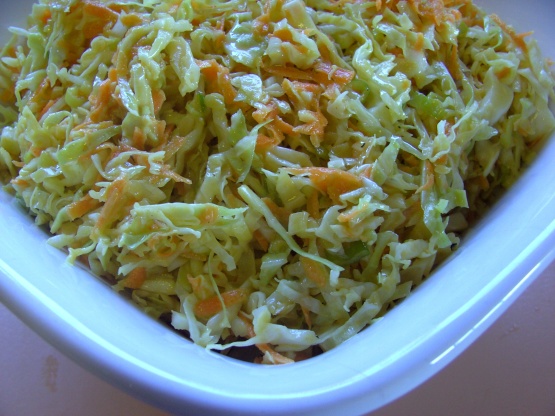 This is a very tangy slaw from "Raichlen on Ribs'' by Steve Raichlen. Great book if you don't have it. Definitely a keeper for all of you BBQ Grill experts out there. Please note: this is an adopted recipe and I hope to make it soonest. If you make it before I do, I would appreciate feedback, Thanks ! ZWT REGION: United States of America.

Top Review by KFHnow
I was looking for something different b/c I had a bag of coleslaw mix and my DH doesn't like "coleslaw". I found it with this recipe. It is tangy and a touch of heat. So good. I followed the directions as given...the hot sauce I used was green/jalapeno Tabasco brand. I will definitely make this again. It was a big hit..... pairs really well with baked pork chops! Thanks!!
Place mustard and sugar in a non-reactive mixing bowl and whisk to mix. Gradually whisk in vinegar, oil and hot sauce. Season with salt and pepper to taste; the dressing should be highly seasoned. Set dressing aside.
Finely chop cabbage in a food processor fitted with a metal chopping blade, running the machine in short bursts; this is a chopped, not a shredded, slaw. Work in several batches so as not to overcrowd processor bowl.
Finely grate carrot by hand or use shredding disk of food processor.
Add cabbage and carrot to dressing and toss to mix. Taste for seasoning, adding more salt and vinegar as necessary.
The slaw tastes best served within a few hours of being made but can be refrigerated, covered, for a day or two.