Memories of Provence Wheat Loaf
Annacia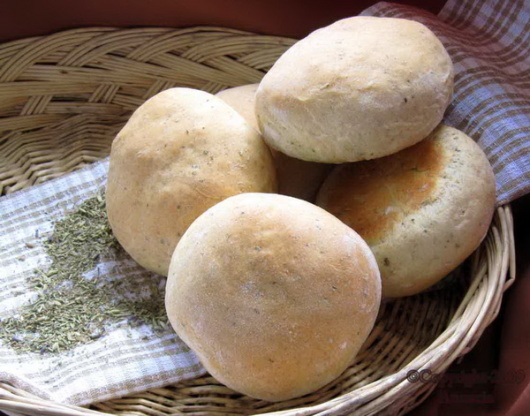 I bought some Herbes de Provence, and adapted this recipe to make use of them. This makes a light wheat loaf and the taste and fragrance of the herbs really comes through. I often bake this as rolls for sandwiches. Prep time very approximate.

Am not sure where my original review went, but I'm back to make it right! I'd received some Herbes from a friend who knows I enjoy baking, & used it in this recipe with great results! I particularly enjoyed them in combo with the flavor from the whole wheat flour ~ Very satisfying! [Made & reviewed in Zaar Stars tag]
Place the herbs in a small dish and pour in the olive oil. Allow to steep for at least 15 minutes, and the longer, the better.
Place all remaining ingredients except cornmeal in your bread machine following sequence recommended by manufacturer.
Start the dough cycle. As the dough mixes, drizzle on the olive oil until incorporated. The dough should form a smooth ball: add small amounts of flour or water (or additional olive oil) until the dough looks right - the exact proportions depend on many factors. Allow to rise in bread machine.
Remove from machine, punch down. If making a loaf, form into an oval loaf and place on cornmeal-dusted baking sheet. Cover and allow to rise until doubled. (If making rolls, cut into 8 to 12 pieces, depending on the size you want, and shape as desired. Place on cornmeal-dusted baking sheet, cover, and allow to rise until doubled).
Preheat oven to 375 deg. F.
Place in oven and bake for app. 40 minutes or until bread tests done. (Rolls will bake 20 to 30 minutes, depending on size - keep an eye on them).
You know you should let a loaf cool before cutting into it; but when you make rolls, one can always be sacrificed to the cause!
Note: I imagine you could bake this in the bread machine, although I've never done so. I'd do it on a basic white setting with medium crust.