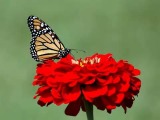 A Cooking Light take on the classic Croque Monsieur. Sounds delicious.
Make and share this Melty Monsieur recipe from Food.com.
Directions
Preheat broiler to high. Place bread in a single layer on a baking sheet; broil 1 1/2 minutes on each side or until lightly toasted. Spread 2 teaspoons mustard blend on each bread slice. Top each serving with 2 bacon slices, 3 tomato slices and about 3 tablespoons cheese. Broil 3 minutes or until cheese melts.
Reviews
Most Helpful
Very easy and enjoyed this light supper, quickly made after a day at work! I added some fried onion, and a good grind of black pepper, and chopped some spring onions on mine. Lovely, thanks Nancy!!!!

I made two for myself for a deliciously filling lunch. I toasted my wholemeal/wholegrain slices in the toaster and cooked the bacon in the oven and used slices of sharp cheddar for the gruyere and also put a little salt on the tomatoes when assembling for the grill/broiler and some cracked black pepper to finish and then thoroughly enjoyed, thank you Nancy's Pantry, made for Everyday A Holiday.

A great, easy recipe for a delicious lunch, with a salad. A perfect meal! Thanks for posting.