Marlene.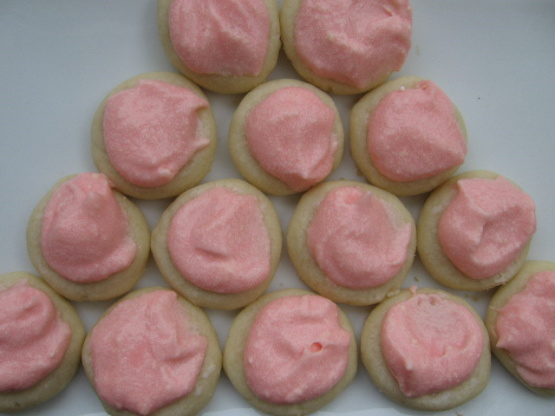 We first had these in a nearby town known as "Little Sweden". I purchased a cookbook which luckily had the original recipe within! There are other melting moment recipes, but most use cornstarch. These are the real deal - and truly will melt in your mouth! Always a crowd pleaser!

The BEST melting moment recipe I've ever tried!!! The cookie was the best part for me. They were nice n firm, not like some that are too crummy and fall apart rather than melt in your mouth. Thnx for the awesum recipe!
Mix butter, flour and powdered sugar.
Roll into balls the size of ping-pong balls.
Place on cookie sheet and flatted to about 1/2 inch.
Bake at 425* for just a few minutes until the edges just begin to show color (really watch them closely!) When cool, frost with the icing mixture on the FLAT side- to create a sandwich cookie.
(You can just frost the cookie tops to double the cookie total. Also, you may substitute almond extract and a touch of red coloring for the cherry juice).