Melting Chocolate Cake (From Carnival Cruise Lines)
ginbowen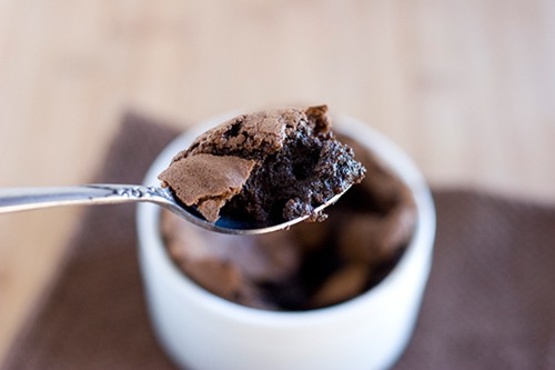 Absolutely one of the FINEST chocolate desserts I've ever eaten. I even repeated our visit to the dining room just so I could have another go at this dessert before we got off the boat. Carnival passed this recipe out in the dining room the last night of the cruise and I'm SOOO happy they did!

I just pulled this straight form the Carnival website. There are a couple of variations:<br/><br/> <br/><br/>8 ounces semisweet chocolate<br/>1 cup (2 sticks) butter<br/>7 eggs, divided use<br/>6 tablespoons sugar<br/>1/2 cup flour<br/>Vanilla ice cream, for serving <br/>Preheat oven to 375 degrees. Melt chocolate and butter; cool 10 minutes. <br/><br/>In separate bowl, mix 4 eggs with sugar. Whisk. Add flour and whisk. Add remaining 3 eggs. Add egg mixture to chocolate mixture. Pour in individual baking cups or ramekins. <br/><br/>Bake until just done, about 15-20 minutes (interior will be melting, not set). <br/><br/>Serve with vanilla ice cream.<br/><br/>Makes 8 servings. Approximate nutritional values per serving: 460 calories (64.7 percent calories from fat), 8 g protein, 35 g carbohydrate, 27 g sugar, 2 g dietary fiber, 35 g fat, 250 mg cholesterol, 60 mg sodium.<br/><br/>This was one of my favorite parts of the cruise!!!! TO DIE FOR!!!!!!
Melt chocolate and butter together.
Mix half of eggs and sugar and whisk for a few minutes. Add flour. Then add rest of the eggs.
Add egg mix to the melted chocolate mix.
Pour mixture in individual ramekin cups.
Bake in oven at 390 degrees (200 celsius) for 15-20 minutes.
To serve, sprinkle top with powdered sugar and serve with a scoop of vanilla ice cream on the side.