seesko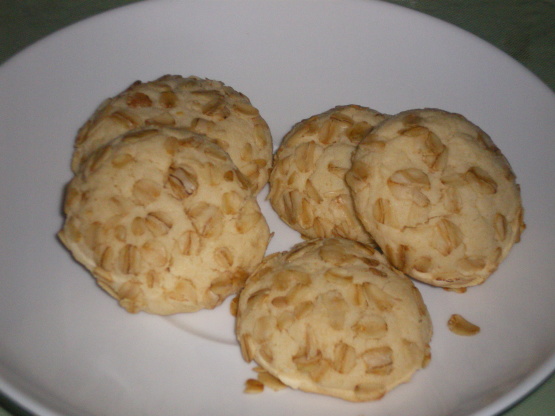 Buttery shortbread cookies rolled in crunchy rolled oats that melt in your mouth. Addictive and delicious!

Top Review by seesko
These were very good. They went well with coffee. I only added 1 teaspoon of salt as 1 1/2 seemed like alot. I was glad I did and think I would add even a little less next time. These are a yummy cookie that will "melt" in your mouth. We very much enjoyed these and I am sure they will be on my Christmas cookie trays. Made for PAC Fall 2008.
Preheat oven to 375 degrees F. Grease cookie sheets.
Cream the butter and sugar until light and fluffy. Beat in the egg yolk and vanilla extract.
Sift together the flour, baking powder, cornstarch, and salt; stir into the butter mixture.
Shape dough into 20 to 24 small balls, about 1/2 inch in diameter. Roll each ball in the oats and place about 2 inches apart on cookie sheets.
Bake 15 to 20 minutes until golden brown. Let cool on wire rack. Store in an airtight tin.